De Raspberry Pi Foundation heeft bekendgemaakt dat zijn Power over Ethernet-uitbreiding voor de Raspberry Pi 3 Model B+ leverbaar is. Daarmee is het bordje via een ethernetkabel ook van stroom te voorzien.
De uitbreiding, in de vorm van een zogenaamde Hardware Attached on Top of HAT, was in maart al aangekondigd samen met het 3 B+-model. Volgens hardware engineer Roger Thornton is de HAT inmiddels beschikbaar. De uitbreiding staat in webshops voor ongeveer 25 euro.
De PoE-uitbreiding is bovenop een Raspberry Pi te plaatsen en is voorzien van een kleine 25mm-fan voor aanvullende koeling. Volgens Thornton maakt de HAT geen gebruik van gpio-headers, waardoor deze nog in te zetten zijn voor een tweede HAT. Energievoorziening verloopt volgens de 802.3af-standaard, waarmee tot 15W geleverd kan worden. Gebruikers dienen over een switch of router te beschikken die de standaard ondersteunen, of kunnen een PoE-injector gebruiken.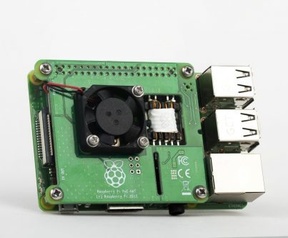 Ook Arduino heeft nieuws op het gebied van ontwikkelbordjes: het heeft officiëel een command line interface aangekondigd. Deze is beschikbaar op Intel en Arm-platformen, wat volgens het Arduino-team betekent dat deze bruikbaar is op een Raspberry Pi. De broncode is opensource en vindbaar op GitHub. Het gaat nog wel om een alfaversie.